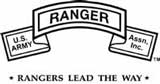 Free Shipping on Ka-Bar, Benchmade, and Becker Knife and Tool
$3.99* on most everything else up to 1 pound package weight!
Our choice of carriers within the 48 contiguous states
See our shipping page for details
USARA Knives: USARA US Army Ranger Association Knife Series

The USARA US Army Ranger Association Knife Series is a collection of knives that commemorate the USARA. Each USARA knife sports the US Army Ranger Association "Rangers Lead the Way" logo.
From early roots on the American frontier in the late 1600's to Operation Iraqi Freedom, the history of the American Ranger is replete with feats of courage, daring, and superlative leadership. US Army Rangers have served our country with distinction in conflicts all over the world.
KNIVES PLUS ®, Retail cutlery and cutlery accessories since 1987
© Copyright 2001-2014 Knives Plus, Inc. All Rights Reserved.
Toll Free Order Line 800-687-6202. Monday-Friday 9:00-5:30 CST.
Retail Store Hours Monday-Friday 10:00-6:00
Prices in our Retail Store will generally be higher.
Knives Plus | 2467 Interstate 40 West | Amarillo, TX. | 79109