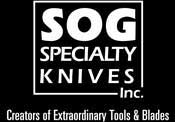 SOG Knives
SOG Knives, SOG Tools, and Sog knife accessories


SOG KNIVES ARCLOCK FOLDERS
SOG Knives Arclock folding knives - Trident Folder and Aegis with SAT assist, Vision, X-Ray Vision, Mini X-Ray Vision, Pentagon Elite I, Pentagon Elite II, Sculptura, Access Card and Toothlock.


SOG KNIVES DOUBLE EDGE FIXED BLADE
SOG Double edged - Pentagon, Mini Pentagon, Desert Dagger, Daggert and the SOG Scuba Demo


SOG KNIVES LOCKBACK FOLDERS
SOG SOGzilla and Autoclip Folders


SOG KNIVES MULTI-PURPOSE TOOLS
SOG Tools Multiplier and pocket tools - PowerLock, PowerPliers, Paratool, CrossCut, CrossGrip, Kilowatt Electrician's Tool


SOG KNIVES SEAL SERIES
SOG Seal series knives - Navy SEAL 2000, Tigershark, SEAL Pup, SEAL Revolver


SOG Knives Discontinued, Limited Collectables
Discontinued SOG Knife Models get them while we still have them and Limited Collectables


SOG Knives, SOG Fusion Knives
SOG Fusion Knives, Battle Ax, Jungle Primitive, Tactical Tomahawk, Throwing Knife Set


SOG LOCK BACK KNIVES WITH S.A.T. ASSIST
LOCK BACK KNIVES WITH S.A.T. ASSIST - assisted opening models - SOG Blink, Twitch, Twitch II, Twitch XL Lock Back knives with S.A.T. Assist


Sog Knives: Bowie, Trident, and Recon
SOG Tactical fixed blades - SOG Bowie and Trident 2.0


SOG Knives: SOG Topo Knives

The SOG Topo Knife Series is a collection of knives that incorporates topographic construction into the knife design. Each Topo knife has a skeletonized handle, with SOG logo cutout, made of stepped layers of machined aluminum and Zytel. The SOG Topo knives include the Topo Contour fixed blade knives, the Mini Topo Gentlemen's knives and the Topo Meridian knives with patented S.A.T. assisted opening.