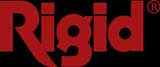 Rigid Knives: Rigid Knife Line by United Cutlery

The Rigid Knife line by United Cutlery includes the Rigid Classics Series of traditional pocket knives and hunting knives, as well as the Rigid Throwing knives.
Rigid knives have always represented high quality design, construction and durability. In keeping with the high standards associated with the Rigid name, United Cutlery produces each Rigid knife using only the best master cutlers from around the world who pay attention to material quality and workmanship.