Knives Plus: Knife FAQ
Chisel Ground Blade Edge
We have recently had a few returns on knives from customers who think the knife or knives they received are defective.
The reason for return is that they feel the knife was not sharpened properly. One note in a returned package from our customer stated: "the factory failed to sharpen both sides of the edge properly." Upon receiving these knives back for inspection it was determined that the edge was properly sharpened and what the customer was seeing as a defect was in fact a chisel ground edge.

Since many of our customers may not know what a chisel ground edge is, we have endeavored to develop this FAQ to explain the chisel edge configuration.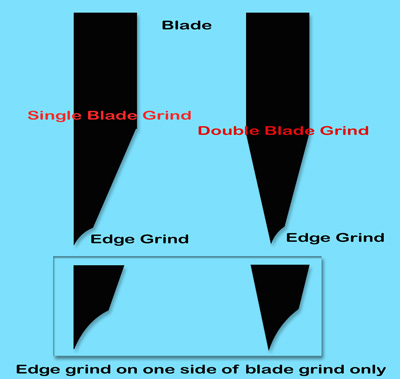 Chisel grind definition: A chisel ground blade basically has an edge grind on only one side of the blade.
Two basic kinds of Chisel grinds are becoming common place:

Single blade grind - this bevel/grind has a blade grind on one side of the blade only. The opposite side of the blade is flat all the way to the cutting edge and the edge grind is only on the beveled side. This is the standard and true configuration of a chisel grind.

Double blade grind - this bevel/grind had a normal double blade grind where only one side has an edge grind. This is a new configuration of a chisel grind and really isn't a true chisel grind but has the single cutting edge grind configuration.
The edge on both styles may be polished on the back side and appear to be ground but usually isnt.