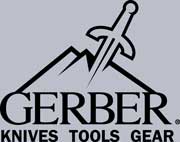 Gerber Knives: Gerber Folding Hunter Knives

The Gerber Folding Hunter Knives include the Game Pro, Parrish Bird Knife, Folding Freeman Hunters, and the Skin Saw Gut Gerber Knife.
The Game Pro Folding Hunter was designed by Rick Hinderer. The Game Pro Gerber knife has a one hand opening stainless steel skinning blade, and a stainless steel handle with non-slip Softgrip inserts for safe, easy field dressing.
The Parrish Bird knife was designed by Brad Parrish. This Gerber knife is ideal for bird hunters as well as fishermen, with a unique handle that tapers down to a smooth "spoon" at the end.
The Folding Freeman Hunters were designed by Jeff Freeman and Brad Parrish. Each of the folding Freeman Hunter knives has a rugged stainless steel blade, and a lacquered pearwood handle for a lifetime of hard use.
The Skin Saw Gut Gerber knife combines a skinning blade and a boning saw in one handy folding implement. The Skin Saw Gut is coupled with the efficient Gerber E-Z Gut Hook, allowing hunters to carry three essential tools in one ballistic nylon sheath.