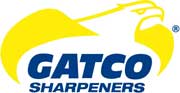 Free Shipping on Ka-Bar, Benchmade, and Becker Knife and Tool
$3.99* on most everything else up to 1 pound package weight!
Our choice of carriers within the 48 contiguous states
See our shipping page for details
GATCO Knife Sharpener - Edgemate, Diamond, Professional, and Clamp Mount
GATCO (Great American Tool Company) Sharpening Systems are designed to sharpen all types and sizes of knives and kitchen cutlery. A GATCO knife sharpening system offers six angle choices, instead of five; the sharpening hones have a wider surface area than those of their competitors; and the self aligning guide rods are integral-sliding in for storage and out for use.

The core of the GATCO knife sharpening system is the knife clamp/angle guide unit. This precision guide has easily adjustable finger screws (eliminating the need for a screwdriver), and choice of 11, 15, 19, 22, 25, and 29 degree angle settings (see guidelines below) for the honing stone. The honing stone guide insures an exact stone to blade angle-taking the guesswork out of knife sharpening. The knife clamp/honing stone guide unit is easily utilized by holding it in your hand: optional clamp mount is available-sold separately.

Each GATCO knife sharpener system comes with an assortment of knife sharpening hones, the knife clamp/angle guide with 6 settings, a bottle of highly refined honing oil, and a custom molded case with instructions permanently attached inside the lid.

GATCO Sharpening Angle Guidelines

The 11 degree angle produces an extremely sharp, but delicate razor sharp edge. This severe angle is recommended for Xactoâ blades and razor blades that require frequent resharpening.


The 15 degree angle produces a superior sharp edge on thin specialty blades and woodcarving tools.
The 19 degree angle produces a fine edge that is excellent for fillet knives and boning knives.
The 22 degree angle is ideal for kitchen cutlery and high quality knives.
The 29 degree angle is recommended for knives that see heavy duty use, such as electrician's knives, carpet and linoleum knives, and is also used to sharpen serrated blades.
KNIVES PLUS ®, Retail cutlery and cutlery accessories since 1987
© Copyright 2001-2014 Knives Plus, Inc. All Rights Reserved.
Toll Free Order Line 800-687-6202. Monday-Friday 9:00-5:30 CST.
Retail Store Hours Monday-Friday 10:00-6:00
Prices in our Retail Store will generally be higher.
Knives Plus | 2467 Interstate 40 West | Amarillo, TX. | 79109