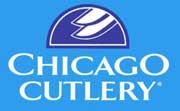 Chicago Cutlery Kitchen Knives: Kitchen Knife Sets and Individual Kitchen Knives.
Chicago Cutlery Kitchen Knives have been in production since the early 1930's. Before then, the main focus of Chicago Cutlery was providing knife sharpening services for professional butchers. In the early 1930's, Chicago Cutlery began to manufacture knives for the meat and poultry industry. Forty years later, the same knives designed to meet the tough standards of professional knife users were made available to the general public for home use. Chicago Cutlery has taken its place among the world's top knife manufacturers through a series of innovations including: the slanted knife block storage system, ergonomically designed handles, and a unique sharpening process that creates a sharper, longer lasting cutting edge.
The Chicago Cutlery Kitchen Knife line includes the popular Basics Block Sets with choice of hardwood or polymer handles; 7 Piece and 9 Piece Walnut Tradition Block Sets; Steak Knife Gift Sets; Walnut Tradition 3 Piece Gift Set; and individual Walnut Tradition kitchen knives.