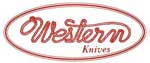 Free Shipping on Ka-Bar, Benchmade, and Becker Knife and Tool
$3.99* on most everything else up to 1 pound package weight!
Our choice of carriers within the 48 contiguous states
See our shipping page for details
Western Knives
WESTERN KNIVES

Western Knives, please read this important note:
It is our understanding that Camillus Cutlery closed for business 2-21-2007; it is a sad day in the knife industry that another major US manufacturer has been closed. We have sold out on Camillus knives and their various trademarks: Western, Cuda, etc. - we will leave these Western Knife pages intact with the expectation that Camillus - Western Knives will be resurrected.