KA-BAR KNIVES:
KABAR Knives made by the KABAR Knife company since 1898.
KA-BAR Knives, KABAR USMC Fighting knife, fixed blade combat knives, and their variants. Dozier design folders, Zombie Killers, and much more.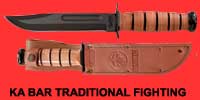 KABAR knives traditional
Fighting knives, combat knives
includes; tang stamp for USMC,
USA, and U.S.N.. Also Black
KA-BAR fixed blade combat knives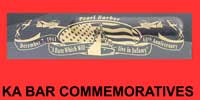 KA BAR knives Commemoratives
includes; KA-BAR Korean War
and Pearl Harbor, KA-BAR
100th Anniversary, and
Presentation KA-BAR.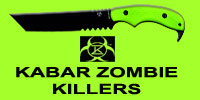 KABAR Zombie Killers
KA-BAR ZK knives:
Kharon Tanto, Acheron,
Famine Tanto, War Sword,
Death Dagger,
Pestilence Chopper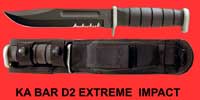 KABAR knives D2 Extreme
Fighting knives, and Impact
Series Spear Point, Tanto,
Warthog, and Combat knives.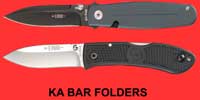 KA-BAR knives folders;
include Warthog, Dozier
Thorns and Precision Folders,
traditional pen, Hobo camp set,
and KA-BAR Maserin and
Tecnocut folding knives.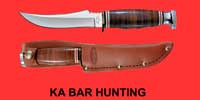 KABAR knives,hunting and
spoting knives; Fixed blade
Precision Hunters, Leather
Handle hunters, Camp Knife,
and Cutlass and Kukri Machetes.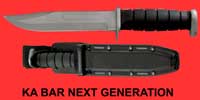 KABAR knives Next Generation
Fighting knives and
Next Generation Fighter.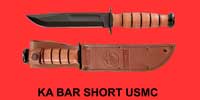 Kabar knives, smaller versions
of the original USMC fighting knife
includes; Short KA-BAR,
Short Black KA-BAR, and
Short Black KA-BAR Recurve
and Tanto fighting-utility knives.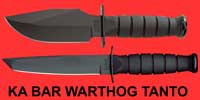 KABAR Knives, Black Tanto
and Warthog fixed blade tactical
combat knives.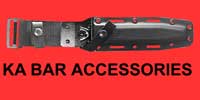 KaBar knives accessories includes;
Kydex sheaths for traditional and
short KA-BAR knives, Eagle sheath,
and walnut display case for
KA-BAR Commemorative knife.