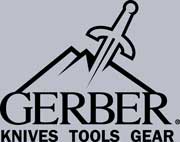 GERBER KNIVES ACCESSORIES
sheaths and sharpeners


GERBER KNIVES AXES, SAWS, AND SPADE
Axes, Saws, tri fold Spade


GERBER KNIVES FISHING PLIERS, FILLETS, AND SCISSORS
fishing pliers, fillets, and scissors


GERBER KNIVES FIXED BLADE RIVER AND BOOT KNIVES
river knives and boot knives


GERBER KNIVES FIXED BLADES with GATORGRIP
Gator and Profile Fixed blades with GatorGrip handles


GERBER KNIVES FOLDERS AR SERIES
AR 3, AR 3.5, AR 3.25


GERBER KNIVES FOLDERS E-Z OUT
EZ Out, 2 sizes


GERBER KNIVES FOLDERS with GATORGRIP
Gator, Santiam, Profile folders with GatorGrip handles


GERBER KNIVES FOLDERS LST
LST (the first synthetic handle pocket knife, LST II, and Magnum LST


GERBER PARAFRAME
Gerber Paraframe


GERBER KNIVES HARSEY AND FREEMAN HUNTERS
Harsey and Freeman Hunting knives


GERBER KNIVES HUNTER'S ACCESSORIES
Game Pro, Game Cleaning Kit, Game Shears


GERBER KNIVES MULTI-PLIERS
Multi-Plier tools


GERBER TACTICAL FOLDING KNIVES
Gerber Tactical Folding Knives


Knives Plus ® Home
Knives Plus Home page


Gerber Knives Discontinued, Limited Collectables
Gerber Knives Discontinued Knife Models and Limited Collectables


GERBER KNIVES ASSISTED OPENING
Gerber Knives with Assisted Opening, FAST


GERBER AXES AND FOLDING SHOVEL
Gerber Axes, Gator Axes, Gator Axe II, Brush Thinner, Folding Shovel


GERBER FOLDERS FRAME LOCK
Gerber Ridge, Mini Ridge, Trendy and Truss knives with Frame Lock


GERBER FOLDERS LINER LOCK
Gerber Aspect, EVO, Vector and Lariat knives with Liner Lock


GERBER FOLDERS LOCKBACK
Bear Grylls Scout, Stag Pocket Knives


GERBER MULTI-PLIERS COMPACT SIZE
Gerber Multi-Pliers, Multi-Plier 400 Compact Sport, Compact Fisherman, Shortcut, Clutch


GERBER MULTI-PLIERS FULL SIZE
Gerber Multi-Pliers, Multi-Plier 600 with Needlenose and Blunt Nose, Pro Scout, Fisherman, DET, Maintenance Kit


GERBER SAWS
Gerber Exchange-A-Blade Saws, Gator Saws, Sport Saws and Pack Saw


GERBER FIXED BLADE TACTICAL KNIVES
Gerber Tactical Knives with Fixed Blade, Includes LMF II, Silver Trident, and Guardian Back Up.


Gerber Hinderer Knives
Hinderer knives by Gerber


Gerber Bear Grylls Knives
Bear Grylls Knives designed by survivalist Bear Grylls


Gerber Knives
Gerber Knives
Gerber knives was established by Joseph "Ham" Gerber in 1938. The full company name was established as Gerber Legendary Blades. The original products were produced by another well known name in knife history, David Murphy. Murphy had a rocky business relationship with Gerber, and ceased his association with the company to produce his own knives for the Soldiers of WWII.

Gerber knives were produced after the war, when Ham Gerber began to produce knives with his son Pete. Many famous knife makes got their start at the Gerber factory, names such as Al Mar and Pete Kershaw having had the benefit of working and learning the knife trade at the Gerber knife factory.

In 1987, Pete Gerber sold Gerber knives. They are now a wholly owned subsidary of Fiskars. Fiskars continues the tradition, innovation, and high quality of the past. Fixed blade knives and folders produced with high tech materials and construction are the norm with Gerber original designs.

Since 1938, almost 70 years, the Gerber name has been one of the finest knife manufactures in the production of hunting, tactical, and utility designs. Look over our selection, we carry almost all of the Gerber knife line.

Gerber knives and knife accessories can be found lower on this page. Call 1-800-687-6202 to talk with our phone staff - 9:00-5:30 CST, Monday-Friday.
Click the links at the left for more Gerber knives














Gerber Epic, GB-176
$29.97 SALE PRICE!

Gerber Epic Knife, 3.45" part serrated gray modified drop point fixed blade, glass filled nylon handle, 7.30" overall.