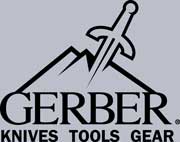 Free Shipping on Ka-Bar, Benchmade, and Becker Knife and Tool
$3.99* on most everything else up to 1 pound package weight!
Our choice of carriers within the 48 contiguous states
See our shipping page for details
GERBER KNIVES FIXED BLADE RIVER AND BOOT KNIVES
Gerber River Knives and Boot Knives: choose from River Shorty, River Runner, Guardian Back Up with adjustable tension clip, and more.
No shipments of Double Edge knives to CA/MA.
Gerber Epic, GB-176
$29.97 SALE PRICE!

Gerber Epic Knife, 3.45" part serrated gray modified drop point fixed blade, glass filled nylon handle, 7.30" overall.




Gerber Guardian Back Up, GB-5803
$42.97 SALE PRICE!

Gerber Guardian Back Up Knife, 3.13" black double edge fixed blade, nylon handle with black TacHide overmold, 7.25" overall.



KNIVES PLUS ®, Retail cutlery and cutlery accessories since 1987
© Copyright 2001-2014 Knives Plus, Inc. All Rights Reserved.
Toll Free Order Line 800-687-6202. Monday-Friday 9:00-5:30 CST.
Retail Store Hours Monday-Friday 10:00-6:00
Prices in our Retail Store will generally be higher.
Knives Plus | 2467 Interstate 40 West | Amarillo, TX. | 79109